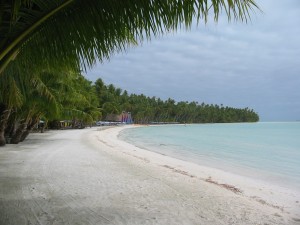 When participating in a guided group meditation session I am often encouraged to picture a peaceful scene in my mind.  The one that always comes to me is shown at the right – a beautiful, remote beach on the island of Tabuaeran in the South Pacific – 900 miles from Hawaii.
My wife and I visited this Island on a Norwegian Cruise Line (NCL) Hawaii cruise in 2004.  At the time NCL was required to visit a foreign port during its Hawaii cruises, and Tabuaeran (also known as "Fanning Island") was the closest [1. NCL no longer visits Tabuaeran on its cruises.  Holland America stops at the Island occasionally these days on its longer South Pacific itineraries].  On this day we were one of the first off the ship, and the first to arrive at this remote beach.  The weather was perfect with sunny skies and temperatures in the 80's.  The trees swayed gently back and forth from a cool breeze.  If we had to describe paradise, this was it.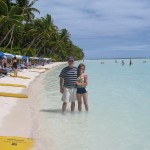 We had the beach to ourselves for 30 minutes or so before some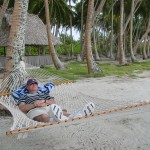 of our ship mates joined us.  I remember not having a care in the world as I gazed out over this tranquil scene.  I bring the memory back of Tabuaeran when meditating, and whatever concerns I have seem to melt away under that tropical sun.
This island was not only beautiful, it had its own population (part of the Republic of Kiribati).  Watching the natives was like going back in time 100 years.  I saw a mother bathing her infant daughter in the ocean.  The natives were oblivious to the outside world until NCL star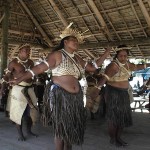 ting visiting regularly.  The crew told us stories of the natives' innocence.  Such as a time when they showed them the "Superman" movie.  "Where is this Superman?" the natives asked in their language.  "Can he visit us?"  not grasping the concept of characters on film.  One NCL staffer told us about one native who found the movie reel, and cut up the film in shreds to make a grass like skirt for herself!
When I think back to my few hours on Tabuaeran I sometimes envy the simple life of the islands inhabitants, remembering the beauty of the island.  I'm not ready to exchange all the conveniences of the modern world to live in such a place, yet I wonder if they perhaps are happier than we are.
How about you?  Do you have a special place you have visited that comes to mind when you want to take a mental break from everyday life?
Become a fan of my new Facebook page where I share these blog posts and plan to share quotes and other thoughts in the future.  You'll recognize my picture of Tabuaeran beach there.