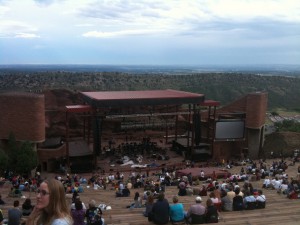 In April I wrote about attending the induction ceremony of John Denver in the newly formed Colorado Music Hall Of Fame.  John Denver wasn't the only one inducted that night.  The other inductee wasn't a person – it was a place!  The beautiful Red Rocks Amphitheater in the foothills west of Denver.
Red Rocks was always a special place to visit in my growing up years.  The concerts I attended here were magical, as I sat in the naturally formed amphitheater away from the noise of the city listening to a top band or solo performer.  One Red Rocks concert I will always remember was seeing John Denver here at the peak of his popularity in 1974.  Denver often said Red Rocks was his favorite place to perform in the whole World.
With such a wonderful concert venue so close to home you might guess I would visit Red Rocks every summer.  In fact when my wife and I attended a Sarah Mclachlan concert on July 10, 2011 it was my first visit to the amphitheater in 30 years!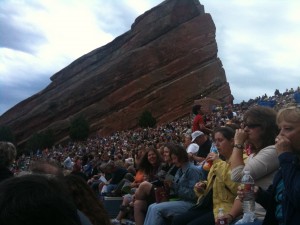 This concert featured Sarah performing with the Colorado Symphony Orchestra.  Sarah said it was her first time performing with an orchestra, and her first time visiting Red Rocks.  She was in top form, singing "I Will Remember You" and her other hits, while not wearing any shoes!  Feeling the stage with her bare feet as her soaring vocals filled the amphitheater must have been a special treat for her.
We sat next to a couple from Dallas, who had flown into Denver just for this concert.  Behind us was another out of state couple also visiting for the event.  I wondered why we had stayed away from Red Rocks so long.  This magical evening reminded me how I sometimes overlook the special experiences of life readily available to me.  I just get too busy or forget to notice.  It won't be 30 years before our next visit to Red Rocks!