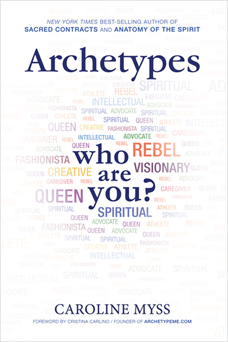 When I first picked up Carolyn Myss' new book "Archetypes: Who are you?" I asked myself, do I really need another tool to examine what makes me tick?  I've studied the enneagram, myers-briggs, psychology, and other introspective methods.  What makes archetypes any different?
I'm glad I quieted my inner skeptic and read Myss' book.  What I found was a fascinating look at human nature through different personality profiles: The Artist/Creative, the Caregiver, the Intellectual, the Rebel, and others (10 in all).
"Archetypal patterns hold the key to the real you," Myss writes. "They somehow know more about you than you know about yourself. By identifying and exploring your own archetypal patterns, you come to understand your true self."
I saw myself in several of the archetypes presented – I am not just one type.  The book points to the website www.ArchetypeMe.com for you to take a quick quiz to determine what mix of archetypes is your unique blend.  I found the quiz gave an accurate self assessment.  I came out as "Creative", "Intellectual", and "Spiritual".  Yep, that's me.
I liked how Myss points out the strengths and challenges for each archetype.  My dominant archetype was "The Artist/Creative".  The lifestyle challenge presented for this type resonated with me: "Can I develop my talent and express myself, or will fear of failure or humiliation hold me back?"  Sometimes I hesitate to put my work out there (like a book project I'm working on) because of a fear of what people will think.  Reading Myss' words encouraged me to go for it!  "You cannot wait for someone else to acknowledge the Artist in you in order to recognize your own gifts," she writes. "It is up to you to bring your gifts to the world, no matter how small or large your world. Your talent may end up
being recognized by millions of people or only ten, but whichever it is doesn't matter.  What matters is that you acknowledged your creative gifts."
One minor criticism I have of Archetypes is that it is written primarily for a female audience.  Myss leads off many chapters devoting pages to the female version of a particular archetype, and then at the end she gives a paragraph or two on the "male counterpart".  I thought the book could have been better balanced, giving more male examples for us guys.
If you are new to the concept of archetypes, like I was, this book is for you. "Archetypal patterns filter into every aspect of your life, so it's important to discover how they express themselves in your everyday decisions and routines," Myss writes.  "They influence
recurring issues: arguments you seem to have over and over, difficulties at work that keep cropping up, and other patterns that repeat themselves.  Anything that repeats is a clue to what archetypes are operating in your life."
Yes, Archetypes may be yet another tool to understand your inner psyche, but I found it an accurate one that gave me new insights into myself.
You can get "Archetypes" from these book sellers:
This is another book review in my partnership with Hay House.  I was not financially compensated for this post. I received the book from Hay House for review purposes. The opinions are completely my own based on my experience.