As an avid reader, especially books about spirituality and life, I plan to make short book reviews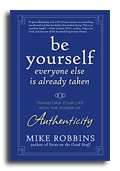 a regular part of this my new blog.  One of the best books I read in 2010 was Mike Robbins "Be Yourself, Everyone Else is Already Taken: Transform Your Life with the Power of Authenticity"
Mike Robbins says "We have the 'disease to please'-always trying to do or say things that we think will make others like us and think we're 'good.'  … constantly trying to do or say the "right" thing so that others will approve of us, like us, and keep us in good favor does not empower us to be ourselves, speak our truth, or live our deepest passions."
Robbins' message rang true for me.  I liked his suggestions throughout the book on how to be more authentic, and less of a people pleaser.   Apparently his message resonates with others, too.  On my twitter feed I posted a quote I read from the book, "It takes courage to grow up and become who you really are." by e. e. cummings.  Within one hour I saw 12 people re-tweeted that quote, with comments like "Unbelievably true words…definition of my life", "this is so very true. I fell & got up so many times."
While we sometimes can live in fear of what others think of us, Robbins identifies the source of that fear in this insightful passage:
"The main person we're scared to be judged by is ourselves. Ironically, we're constantly judging ourselves anyway; there's no need to be scared of it, since it happens all the time. Herein lies the paradox of the fear of judgment: we think we're worried about what others think about us, when we're really most vulnerable to damage from what we think about ourselves."
One of my intentions of the New Year, as I wrote about last week, is to look for opportunities to step out, to show my authenticity.  I find myself referring to Robbins' "Be Yourself" book again and again to help in that quest.