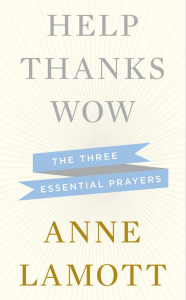 I was thinking the other day how much time I devote to spiritual growth.  Reading books.  Listening to inspirational music.  Regularly taking in weekly podcasts from some of my favorite ministers.  Meditating.  All activities I really get into.  But lately I haven't been praying much.  So I decided I want to learn more about prayer.
One of my "podcast ministers" recommended "Help, Thanks, Wow – The Three Essential Prayers" by Anne Lamott.  It's a little 101 page book full of quirky stories about these three types of prayers.  "Most good, honest prayers remind me that I am not in charge, that I cannot fix anything, and that I open myself to being helped by something, some force, some friends, some something," Lamott writes in the Help chapter.  "These prayers acknowledge that I am clueless;  but someone else isn't."
I liked the Help chapter the best.  While I believe in the mantra "God helps those who help themselves", at times when I am baffled at a situation the best I can do is pray: "help!".  Lamott reassured me that this type of prayer is OK, and in fact may be the most honest prayer.  We don't have to know all the answers.
I get the "Gratitude" part of life.  Focusing on the positive and being thankful for the everyday blessings in my life just gives me more joy.  Lamott's "Thanks" chapter again reminded me of the value of saying "thank you" prayers.
The "Wows" in life I really didn't consider as prayers, but after reading this chapter I can see how they could be.  "Wow means we are not dulled to wonder," Lamott writes.  "We click into being fully present when we're stunned into that gasp, by the sight of a birth, or images of the World Trade Center towers falling, or the experience of being in a fjord, at dawn, for the first time."
I also found it interesting that the book was recommended by a "New Thought" Unity minister, with a very different spiritual outlook than the author (Lamott attends a traditional Presbyterian church).  This is a book that has meaning regardless of your religious orientation.
"Help, Thanks, Wow" may give you a fresh perspective on prayer, as it did for me.  I've noticed I've been praying more since reading the book, and I think that is a good thing.