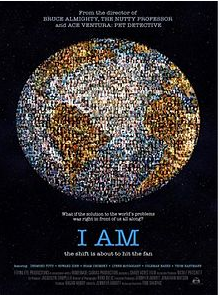 Only the strong survive!  Survival of the fittest is the fundamental law of nature!  Winning isn't everything, it's the only thing!
We've all be raised with these ideas.  Since Charles Darwin's time assumptions like the above have been key to our understanding of the way the World works.   The new documentary "I Am" challenges these long standing beliefs.
The film's director, Tom Shadyac, had achieved great success in Hollywood, making hits like "Bruce Almighty" and "Ace Ventura: Pet Detective".  He lived the life of luxury and fame.  Then a near fatal bike accident caused him to reevaluate his priorities and human nature in general.     "I Am The Documentary" tells Shadyac's story and presents a different way of looking at the World.  Anne and I attending a sold out showing last Friday night at the Chez Artiste theater in Denver.
"The basis of nature is cooperation and democracy, it's in our DNA," says one authority in the film.  Really?  That may sound like a bold statement, but after we watched the movie this expert and others interviewed convinced us that this alternative world view just may be the right one.  "I Am" emphasizes that if each of us does what we can to make the World a better place, global change can happen.  "What we do at the individual level really does affect the global environment."
An unexpected bonus for our showing was the appearance of director Tom Shadyac in person to answer questions.  Shadyac ran down the aisle to the cheers of the audience as the closing credits were shown.   He was just as engaging in person as he was in the film.
"I Am" is a movie worth seeing.  Shadyac relies on his comedic background to make a documentary that is humorous and fun yet at the same time delivers an inspiring message.  The "buzz" around this film is growing, and it will get even louder after Shadyac appears on Oprah later this month (he says Oprah is going to interview him on her April 20th show).  Check out this website to find where "I Am" is playing near you.