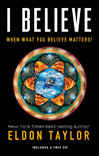 "The power of belief, the absolutely awesome incredible power of belief, is the genie in your life," Eldon Taylor writes early in his book "I Believe: When What You Believe Matters!"  Now in paperback, I Believe is 191 pages of life advice from one of the nation's leading mind researchers.
I liked how I Believe was divided into 26 short, easy to read chapters.  With sections on such varied topics as "Who Am I?",  "Love and Cruelty", and "Instinct and Intuition" there is something for everyone in navigating this game called life.  Each chapter concludes with a brief "Reflection" that summarizes the main points and with questions for the reader to ponder.  I took my time getting through "I Believe", reading one or two chapters at night before bedtime.  It's not a book to be rushed through.
This is the second book I have read and reviewed from Taylor.  The first, Self-Hypnosis and Subliminal Technology, was good but at times ventured into difficult-to-understand mind theory.  Not so with I Believe – Taylor does a wonderful job of using stories to illustrate his points.  I especially liked one story of a CEO who challenged his young executives to grow the best plant possible with a seed he had given to each of them.  Unknown to the executives, the CEO had boiled the seeds so that they would not grow.  One worker thought he had failed the test badly. "All of you, except Jim, have brought me trees and plants and flowers," the CEO tells the his young managers at the end of the year long challenge.  He adds, "Jim was the only person with the courage and honesty to bring me a pot with my seed in it.  Therefore, he's the one who will be the new CEO."  This tale Taylor uses to emphasize the importance of integrity, and he tells other stories throughout the book to illustrate more life lessons.
Taylor does not shy away from tough questions in I Believe.  "For me there's no simple answer to the question: Why Pain?" he writes.  He encourages us to be patient when enduring hardships.  "The long view may well provide us with insight, but generally we must wait for some future date before context makes the pain bearable, forgivable, and potentially understandable … Are you still holding on to the pains of yesterday?  What would happen if you simply trusted that one day you'll discover the silver lining in those particular clouds?"
"I believe that you're a miracle, and discovering your true self uncovers that wonder in a way that transcends the normal way of knowing," Taylor writes in the concluding pages of I Believe.  His book, in a positive and non-preachy manner, caused me to ponder what areas of my life I still have some growing to do.  Simply by changing my beliefs.
I received a complementary copy of this book for review purposes.  The opinions are completely my own based on my experience.