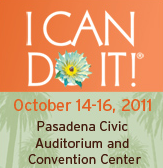 This past weekend I attended Hay House's "I Can Do It" conference in Pasadena, California with my wife Anne.  While I have been to many work conferences before, this was my first one that featured motivational and inspirational speakers.  How did the weekend turnout?
The first day was amazing.  I attended a writer's workshop hosted by Cheryl Richardson and Hay House President Reid Tracy.  Who should be sitting in the first row but Louise Hay herself!  Louise gave a short talk to start the day, about how she became a writer from humble beginnings (her first work was a 12 page pamphlet).  "It doesn't matter where you are as long as you start," Louise said as she encouraged us in our writing projects.
Cheryl and Reid had lots of writing tips during the day long workshop, such as  "The most powerful thing you can do is write from a vulnerable place" and "what hooks people in is a personal story".  I thought paying a little extra for this pre-conference workshop was well worth it.  I also liked the small setting (about 80 people) compared to the huge crowds at the workshops I'd see later in the weekend.
Friday night Wayne Dyer gave a keynote address in the main auditorium on the "mastering the art of manifestation".  Dyer is a terrific speaker, and he supplemented his talk by including three guests.  Comedian Sarah Sweet gave a hilarious monologue about growing up in a "spiritual" home, Dyer's daughter Skye sang two beautiful songs, but the guest who had the most impact on me was a woman sharing the story of her near death experience and healing.  This woman was only given hours to live with terminal cancer, experienced a tremendous loving presence, then her body healed itself of all of the cancer.  The doctors could not find a trace!  The evening overall was a great mix of song, humor, personal testimony, and inspiration.
The rest of the weekend featured workshops and more keynote presentations.  I was especially impressed with Cheryl Richardson and Louise Hay's openness in their keynote on "You Can Create a Magnificent Life".  Sonia Choquette's high energy two hour workshop had us dancing in the aisles, and Deborah King's workshop on "Be Your Own Shaman" was enlightening.
The weekend also gave me a chance to meet the authors I had read from my Hay House book reviews.  I told Cheryl Richardson of my review of You Can Create An Exceptional Life and she remembered! (she had sent me an email thanking me for the review a few weeks before).  Sonia Choquette told me of a Course in Miracles group hosted by her mother in Denver when I told her where I was from.  One author I wanted to meet, Deborah King, I did not as I was off to the airport before her book signing.  All of the authors were vulnerable in sharing their own struggles and triumphs in life;  the message I came away with from each was "if I can do it, so can you!"
The conference was a nice respite from my everyday life back home.  Yet as I apply the lessons learned from the weekend, I realize that my life is anything but ordinary.  Instead of focusing on what is not working, I am noticing the miracles all around me today.
And the speakers inspired me to think "maybe I could write a book".  Stay tuned to see how that turns out.