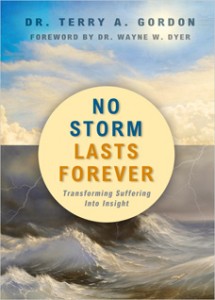 "Life was perfect!" says Dr. Terry Gordon in reflecting back to June 29, 2009.  A successful cardiologist, Gordon and his wife were content in having raised three daughters and a son.  The girls were all college graduates and son Tyler had just completed his sophomore year as a business major.  Then tragedy strikes.  That night Tyler is seriously injured in an auto accident.  In a phone call early the next morning Gordon hears these dreaded words from the attending physician, "Your son is quadriplegic."
In "No Storm Lasts Forever – Transforming Suffering Into Insight" Gordon shares with us his personal thoughts during this tumultuous time.  "I have never kept a diary" Gordon writes, yet his son's accident leads him to describe his frustrations and perceptions as he deals with his son's injury.  Little did he know at the time his diary was to later become this Hay House book – an inspiring tale for anyone going through a personal crisis.
I liked how Gordon relates uplifting stories of people he meets as he deals with his inner turmoil.  Before his 40th high school reunion, for example, he reconnects with his first girl friend.  He learns Marcia had been diagnosed with multiple sclerosis 25 years earlier.  The one time actress and dancer is now confined to a wheel chair.  "I am actually grateful for my disease," she tells Gordon.  "It has taught me more about myself then I ever could have found out otherwise.  I learned how not to reject the pain of my adversity – how not to deny or ignore the hurt, but to embrace it as a precious gift from the Divine.  I've found that by working through my turmoil, I've been able to discover goodness within the hardship, and, more important, what lies beyond the suffering."  These words are a comfort to Gordon as he struggles with why his son has to endure such a terrible fate.
Gordon has another chance encounter at an airport with a smiling man in a wheelchair.  The author is amazed at the man's cheery disposition.  "His brilliant smile radiated from an enviable inner peace and happiness," Gordon writes.  In talking to the man Gordon gets new insights.  ""I'm not going to tell you that the first two or three years were easy for me – they weren't," the man says.  "They were pure hell.  But you know what?  At some point (your son) Tyler is just going to have to get over it."  After this encounter Gordon thinks to himself "When (Tyler) decides to change the way he looks at his circumstance, his circumstance will change."
The book is full of inspiring stories like this as well as Gordon's own discussions with his son Tyler.  Gordon is a nature lover, and often he will describe a nature scene and turn it into a lesson to help him deal with his son's condition.  The title of the book, for example, comes from an encounter with a violent Colorado thunder storm outside Tyler's hospital room.  "Son, even God doesn't create a storm that lasts forever," he tells his son.  "We must be patient, Ty.  The sun will rise again.  I promise you."
I didn't find the nature analogies as compelling as Gordon's people stories in the book, but overall I recommend "No Storm" to anyone trying to make sense of a personal tragedy.   There are no miracle cures in Gordon's memoir, Tyler is still a paraplegic, yet Gordon writes, "the most profound thing I have come to accept is that why the Gordons are facing this huge challenge is immaterial.  What's more important is how we're overcoming it."  The book can give you healing insights, too, in dealing with adversity in your own life.
You can get "No Storm Lasts Forever" from these book sellers:
This is another book review in my partnership with Hay House.  I was not financially compensated for this post. I received the book from Hay House for review purposes. The opinions are completely my own based on my experience.