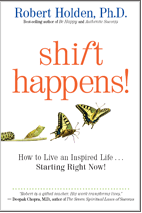 In the movie Jerry Mcguire the characters played by Renee Zeilweiger and Tom Cruise have an on and off romance.  "You had me at hello," is the most well known line in that film from Zeilweiger, when the Cruise character comes back to reconcile their relationship.
I thought of that line when reading Shift Happens! How to Live an Inspired Life … Right Now! by Robert Holden.  Early in the book Holden writes ""If your God is not a God of unconditional love, get another God!" The unconditional Love of God is the basis of my spirituality, and when I read this line I thought "this book is going to be good!"  Holden had me.  Throughout Shift Happens Holden returns to this theme often, calling this love "your Unconditioned Self".
Shift Happens! is a work to savor.  The book consists of 55 short three to four page chapters ranging in topics from "There is nothing wrong with you" to "Get off your 'yeah but'".  I really liked this format.  It took me almost two months to finish Shift Happens but that's because each chapter stands on its own.  I took Holden's inspirational writing in small doses – reading one chapter each day.  This is not a book to rush through.
As a person who relishes reading books about spirituality and self improvement, this passage spoke to me:
"Many times I have watched people use self improvement as a covert form of self-attack—heavily laced with self-criticism, self-loathing, and a denial of wholeness," Holden writes.  "Self-improvement often starts with a perception of lack (i.e., I am not good enough, I am not okay yet, etc.). Unless this perception of lack is changed, you always end up where you started, in lack! No amount of self-improvement is enough. There is no rest."
Am I reading self improvement books because I think something is wrong with me?  If I am honest I must say yes, that is my motivation at times.  Holden's words brought me back to his "Unconditional Love" world view.  There's nothing wrong with reading self help material, I was reminded, but with the motivation of learning more about who I really am, rather than trying to "fix" myself.
Holden has many other nuggets of wisdom spread throughout Shift Happens.  I recommend the book for anyone who would like a daily dose of positive inspiration to start their day.
You can get "Shift Happens" from these book sellers:
This is another book review in my partnership with Hay House.  I was not financially compensated for this post. I received the book from Hay House for review purposes. The opinions are completely my own based on my experience.