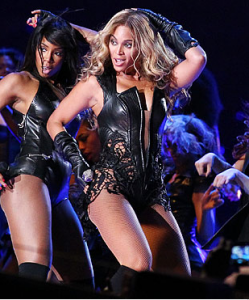 "Activate your inner Beyoncé," minister Cynthia James encouraged us to do in a talk I attended awhile back at Mile Hi Church in Denver.  Reverend Cynthia wanted us to express ourselves to the fullest.  "Don't restrict it – Beyoncé holds nothing back!" she said.
Until yesterday's Super Bowl I had never seen Beyoncé perform.  Wow!  Talk about being uninhibited.  The extroverted Beyoncé electrified the crowd in a 15 minute dance filled, pyrotechnic enhanced show.  "Beyoncé will go down in history as giving the best halftime performance of all time!" writes Christopher Rogers of Hollywood Life.
Yet there was another person who fully expressed himself yesterday in a much quieter way.  Baltimore Ravens quarterback Joe Flacco, the game's most valuable player, had a phenomenal day – throwing for three touchdowns in leading his team to the victory.  Flacco said after the game in an interview with NFL Network "I hope I can stay somewhat by myself (tonight) so I don't have to take all kinds of pictures and stuff."  Not quite as flamboyant as Beyoncé!  Or like past Super Bowl winning quarterbacks who enjoyed the spotlight a la Joe Namath.
But Flacco was equally impressive as Beyoncé in staying true to his character.  The introverted quarterback had the reputation of giving a "boring interview" by broadcasters covering the Super Bowl before the game.  Flacco did just fine in his post game talks, giving his in depth analysis of the game and his teammates before retreating to the solitude he preferred.  "I'm always like that – always pretty calm," he said when asked how his quiet demeanor helped his team win the game.
I think we saw the best of extroverts and introverts on Super Bowl Sunday.  Beyoncé and Flacco, in their own ways, stayed true to their basic temperaments and shined because of it.   That can be a lesson to the rest of us.  Don't try to be like somebody else.  Be yourself.  And bring all your passion, like Beyoncé and Flacco did yesterday, to whatever you do.
Beyoncé photo courtesy of nfl network.