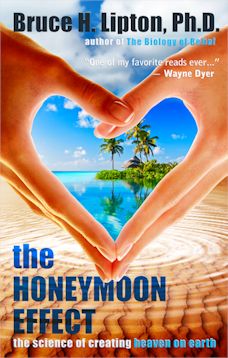 I received a complementary copy of this book from Hay House for review purposes.  The opinions are completely my own based on my experience.
Most of us have had the feeling.  The joy of being in love and all the euphoric emotions that came with it.  But it didn't last.  Why?  Bruce Lipton in his new book "The Honeymoon Effect" explains where those wonderful feelings came from, how we lose them, and how we can get them back.  "Your beliefs are preventing you from experiencing those elusive, loving relationships," he writes.  "Change your beliefs, change your relationships."
Lipton stresses the importance of "trusting our vibes".  I liked how he gave examples from his own life.  In one chapter he tells how he had a bad feeling about a "predator" neighbor while living on Barbados.  When a job transfer came through to another island Lipton was relieved – he'd get away from that neighbor once and for all!  He was surprised when the neighbor volunteered to help him move.  After getting assistance loading his belongings from his new friend, Lipton thought to himself "maybe this guy wasn't so bad after all" as he left on a plane trip.  When Lipton returned he found his neighbor had cancelled Lipton's move with the shipping company, and had stolen all of Lipton's household goods!  "The loss of all my possessions was a painful lesson for me about the importance of trusting 'bad vibes' and 'good vibes'," Lipton writes.
Most of the examples Lipton gives in his book are related to romantic relationships.  "When it comes to partners, there are suddenly four instead of two minds involved," he writes.  "And these two extra subconscious minds can wreak havoc on Happily-Ever-After relationships."  The Honeymoon Effect is full of strategies to deprogram those unhealthy messages that come from our subconscious minds.
While I valued Lipton's insights, I suspect the average reader will find it difficult to change the programming of his or her subconscious just by reading the book.  Lipton encourages readers to followup on his suggestions. "There is no one tool that fits all people," he says.  "If one of the processes listed in the appendix doesn't work, don't give up;  try another one!" he adds.  I think the Honeymoon Effect is best used as a guide for the reader to explore different healing methods.
The book ends on a hopeful note – we CAN change the programming of our subconscious minds.  "By manifesting the life you choose, not the life you were programmed by your family to lead, you can have it all," Lipton writes.  The Honeymoon Effect reminded me of how those messages I received in childhood still affect me today, and encouraged me to continue to work on changing those thoughts.
You can get "The Honeymoon Effect" from these book sellers: