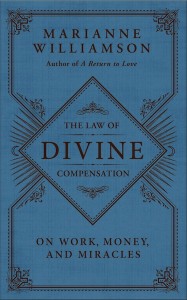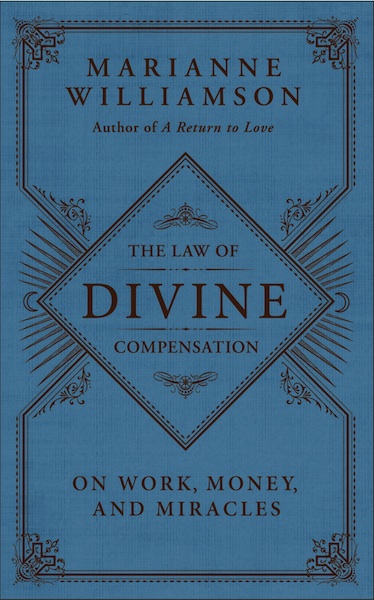 In these difficult economic times Marianne Williamson's new book, "The Law of Divine Compensation: On Work, Money, and Miracles" is a refreshing reminder that God's love is the true source of our abundance.
"Finance is just one of many areas where an increasingly obsolete, materially based worldview is proving to be inadequate to the challenges of the times in which we live," Williamson writes in the preface of her book.  The author's message of God's unconditional love trumping worldly possessions resonated with me.  I found myself underlying passages in page after page for future reference (the most words I've highlighted in any book I've read this year).
Williamson is not preaching to us from the mountain top.  Similar to her writing style in other books, she is very vulnerable with her own struggles – this time in the financial realm.  In "Divine Compensation" she tells a story of how she lost $10,000 early in her speaking career due to poor event planning.  "Oh Daddy," she recalls telling her father, "It was such a bomb!"  Williamson describes how this personal misfortune taught her a lesson.  After consoling words from her father, she relates how she chose to think about this incident was the key to transforming it to positive experience.  She could either see it "as proof of utter failure and doom or as an opportunity to forgive myself and attract a miracle."  Williamson, in being open with her own shortcomings, gives the reader a sense of being counseled by a friend, rather than being lectured at by a "know it all" spiritual guru.
I wasn't expecting to read about the value of forgiveness in a book about work and money, but according to Williamson a forgiving spirit is essential in attracting our own good.  "The universe knows if you were hurt and is already on the case to make right whatever wrong occurred," she writes.  "Your anger, if it lingers, throws a wrench in the machine of the miraculous universe."  In her view, "no deviation from love – on your part or anyone else's – can keep the universe from its divine intention that your life be one of fullness and joy."
I also liked the prayers Williamson included in the book.  Prayers to transform the reader's consciousness.  Can you relate to this one as I did?:
"Dear God, I feel myself falling into the hole of self-pity, self-obsession, and negativity.
I know I shouldn't think this way, but I'm afraid and I cannot stop. Please replace my thoughts with Yours, dear God.  I am willing to see myself and all things differently.  Please send me the miracle of new eyes and ears, that I might know my greater good.  Amen."
I copied this and other prayers from the book and plan refer to them often during my own times of doubt and struggle.
"The Law of Divine Compensation" is the best book from Marianne Williamson I have ever read (and I have read a few, including her landmark work "Return To Love").  "You are not merely a being of the material world;  you are a being of unlimited spirit," she writes.  "And in spirit there is no lack.  You are not lacking, just because your circumstances are."  Williamson's message of God's love being our true source of fulfillment was a comfort to me, and I think it will be to you, too.
I was given a complementary copy of this book for review purposes.  I was not financially compensated for this post.  The opinions are completely my own based on my experience.