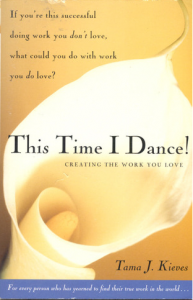 Tama Kieves had it made.  A Harvard Law School graduate, she had achieved what most people would consider "success" – a well paying position with a large firm.  But something inside told her there was more to life than filing legal briefs and earning a big pay check.
In "This Time I Dance!: Creating the Work You Love" Kieves tells her own story of leaving the corporate world to pursue a writing and coaching career.  "No salary ever pays enough for us to leave our truth behind," she writes.  "Only a life of self-honor feels safe and sure.  Everything else leaves us empty, hungry, and haunted for more."
In telling her story with candor and wit, Kieves inspires us to follow our own callings, too.  She encountered plenty of naysayers along the way, including her family, questioning why she would leave a secure job for a writing future that was anything but guaranteed.  Perhaps you are considering a career change but wonder if you can support yourself in following your passion?  "Decide to live your dreams before you can foresee the means," Kieves counsels.
I liked how the book was a mix of biography and motivation.  Kieves relates one story of meeting a senior partner from her old law firm in a chance encounter at a bank.  Kieves' casual outfit that day matched her new artistic bent – complete with a striped feather tucked into a black hat.  "You look great, just like Annie Hall," her old boss told her.  Kieves was mortified. She later realized her former boss was well meaning in his comment, it was she that was condemning herself for "playing dress up."  Kieves follows this story with a lesson: "we will face these kinds of tests in our transition … trying on new lives feels like playing make-believe.  But as we act out our new roles, we will make belief.  We become solid with experience and poised and affirmed."
Reading "This Time I Dance" encouraged me to pursue my own dreams.  I have had this book idea in my head for the past year.  I happened to meet Kieves and told her of my vision.  "I so hope you write your book … it's your dance," she wrote when I asked her for an autograph.  Though I didn't win a publishing contract in my first attempt, Kieves' words motivated me to keep at it – to self publish.  I recommend reading "This Time I Dance" if you, too, are looking to express yourself in new and exciting ways.