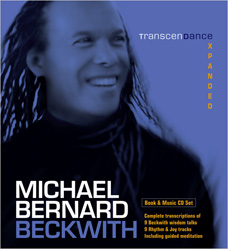 Michael Bernard Beckwith's new release "Transcendance Expanded" is a spiritual hybrid.  It's not just a book. It's not just a CD. It's both!  Beckwith's blend of prose and music inspires us reach our highest spiritual potential.
Transcendance features eight transcripts of one hour wisdom teachings Beckwith originally presented to his church, The Agape International Spiritual Center in Los Angeles. With each chapter there is an accompanying rhythm and joy track on the included CD.  Beckwith delivers the highlights of every chapter on CD tracks with catchy background tunes composed by a trio of Grammy-nominated producers.
I liked how the CD reinforced Beckwith's teaching.  "Transcendance" is not a work you will read and forget.  After finishing the book you can replay the CD and be reminded again and again of the author's powerful message.  I transferred the CD to my iPod, and listened to different tracks.  I especially enjoyed listening to the upbeat music with Beckwith's inspirational narration while riding my bike.  It's a great soundtrack to exercise to.
The unconditional Love of God was stressed throughout Transcendence, a message that resonated with me deeply.  "Walking a spiritual path, or being part of a spiritual community, is about being reminded, each and every day, of the love and peace and joy and harmony that's available to us at all times," Beckwith says.  "This love has nothing to do with accomplishment.  It has nothing to do with a merit or demerit system.  It is simply the love of God rushing to express itself through you."
This love awareness is not an end in itself, Beckwith writes.  "It's a beginning for your growth, development, and unfoldment.  It's where you take the first baby steps of transformation, which makes the journey so much smoother."
The last chapter of Transcendance is different.  It is not a transcript of a talk but rather in it Beckwith shares revelations of his soul and how your individual human spirit can grow to fulfill your divine destiny.  I found the accompanying CD track for this chapter especially valuable – an 11 minute meditation which contains the essence of Beckwith's teaching.
"We are meant to evolve into our highest potential," Beckwith writes. "Whatever it is that you've accomplished up to this moment, whatever level of success you've attained, the trickster ego seductively whispers, 'I did it. I've made it!' while the spirit within says, 'Good start!'" Transcendance combination of inspiring words and upbeat music can jump start your spiritual practice, as it did for mine.
You can get "Transcendance Expanded" from these book sellers:
This is another book review in my partnership with Hay House.  I was not financially compensated for this post. I received the book from Hay House for review purposes. The opinions are completely my own based on my experience.