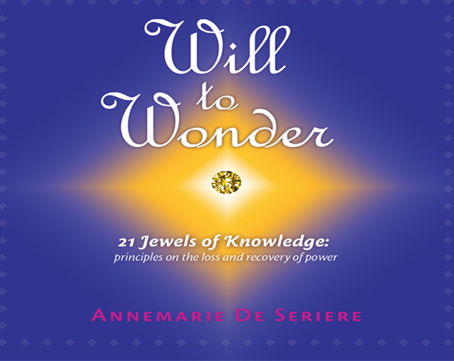 "The Power to Discern", "The Power to Adjust", "The Power of Compassion".  These are three of the 21 Jewels of Knowledge described in Annemarie De Seriere's book Will to Wonder. "Exercising my Powers puts me in the driver's seat of my life.  Knowing who I am – a soul – unveils my value and enables me to use my Powers to claim my rightful success," De Seriere writes in the introduction.  The book "is designed so you can pick a Power to nourish you through the day."
I liked the format of Will to Wonder.  Each day I would read a "Jewel" and meditate on the chapter's message. I read little gems like "if you spend your life running around pleasing others, no matter what you do, it will somehow never be enough", "Contrary to popular belief, consciously practicing introversion is a very powerful tool to effect change.", and "Ego has many faces; inferiority and superiority are but two."  These and other statements spread throughout each chapter caused me to stop and think about my life, and how I could better utilize the "Powers" that already reside within me.
More than a self study guide, though, I think Will To Wonder also lends itself to group discussion.  Pick one "Power" a week, study it, and then report back to the group how that Power is working in your life.
De Seriere summarizes each chapter nicely with a short  "Action", an "Affirmation", and a "Blessing".  In the "Power of Faith" chapter, for example, part of the action step reads:
"At the start of any new project, visualize a successful outcome.  Do something each day, no matter how small, towards that outcome, keeping a firm eye on your goal.  Trust that the outcome will be successful and let go."
This passage has been a good reminder for me as I start my book project that I mentioned last week.
I have found reading a short spiritual piece each day has been helpful for my own growth.  I recommend Will to Wonder for a daily dose of inspiration.