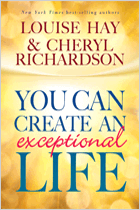 "You Can Create An Exceptional Life" may well have been titled "Day By Day With Louise Hay".  The new Hay House release features best selling author Cheryl Richardson relaying a series of conversations she had with self help pioneer Louise Hay.  "I've been thinking about things that are relevant to my spiritual growth," Louise says in the introduction, "and I thought we could talk about that."
The book's conversational style makes it a very easy read.  Cheryl's detailed descriptions made me feel like I was sitting at a table with these two remarkable women, taking in all the wisdom shared.   Once I picked up the book I could not put it down, finishing the 161 pages in three days.
I was impressed with Louise's vulnerability in her descriptions of various challenges she had worked through in her life.  Devastated by a divorce  at age 42, a chance invitation to a lecture at a Religious Science church started her on the spiritual path.  "There I was, sitting in this lecture, when I heard someone say, 'If you are willing to change your thinking, you can change your life.'  While it sounded like a small, tiny statement, it was huge to me.  It caught my attention," Louise says.  Cheryl probes deeper.  "Why do you think that caught your attention?" she asks.  "I have no idea, because I was a person who never studied anything… But something about this subject spoke to me at that time, and I made a decision to go back," Louise replies.
Louise Hay was a person who never studied anything??  As she relates her life story, Louise comes across as a very ordinary person, like you and me, who proceeds to transform her life through positive thinking and affirmations.  The message I took from the book: if she can do it, so can we.
Cheryl, too, adds her followup comments throughout the book which further enhances the lessons that Louise is conveying.   "As Louise and I talk about the ways in which our thoughts influence our lives," she writes, "I become even more aware of how significant and powerful this idea really is.  So much of what we both believe, teach, and practice in our own lives is based on a concept that is still seen by many as far-fetched, New Age, or simplistic at best."  In this way the reader gets the full impact of both Louise's and Cheryl's outlook on life, and it is quite a powerful one – two punch.
"You Can Create An Exceptional Life" is more than a series of life lessons from Louise and Cheryl.  To get maximum benefit I recommend trying the positive affirmations scattered throughout the book for yourself.  I have read of the power of affirmations but never really put them into daily practice.  I reviewed the "Collected Affirmations" summary at the back of the book and wrote down the ones that particularly resonated with me.  Now I meditate on those affirmations each morning.  It's only been a few days but I can already feel a difference – I am slowly shifting to a more positive orientation.
"Today so many people want fast success.  But when we're on the spiritual path and responding to what Life presents us, I think the most powerful work we do happens gradually over time." Louise says in one chapter.  "It's almost as though we don't realize it's happening.  We look back and think, 'Oh my, look at all that!'"
"You Can Create An Exceptional Life" can be a valuable aid to your own gradual spiritual transformation.   It's a book I have already started to reread – full of wisdom that just makes me stop in places and think "hmmm – I'm going to try that affirmation myself."
You can get "You Can Create An Exceptional Life" from these book sellers starting September 20, 2011:
This is another book review in my partnership with Hay House.  I was not financially compensated for this post. I received the book from Hay House for review purposes. The opinions are completely my own based on my experience.