Is Disney World just a place for kids to enjoy? Last week I attended a travel agent conference at this top tourist destination. Sure there were lots of families in attendance appreciating the Disney characters, a variety of rides, shows, restaurants, and more. On this trip, however, I was reminded how a visit to Disney World can be inspirational too. Three attractions stood out to me.
Disney has brought back its classic 1986 3-D movie attraction in Epcot, "Captain EO", starring a 28 year old Michael Jackson in a 17 minute space opera. Michael was at his best in this short production, showing his amazing vocal and dance talents. More than just entertainment, the story has a deeper meaning, too, as Jackson in his role as a space ship captain visits a hostile planet with an evil queen. "We come unannounced," Jackson says to the queen in his role as Captain EO, "to bring a gift to someone as beautiful as you … (you are) very beautiful within, but without a key to unlock it." Captain EO proceeds to transform this dark and gloomy planet to one of beauty and joy, through the magic of music and dance.
I wondered if Michael Jackson forgot the message of Captain EO in his later years. Through a series of plastic surgeries Jackson at the end of his life bore little resemblance to the vibrant and very much alive character he played in Captain EO. Perhaps Jackson, like many of the rest of us, was looking for fulfillment in the wrong places.  He had lost touch with the beauty within himself.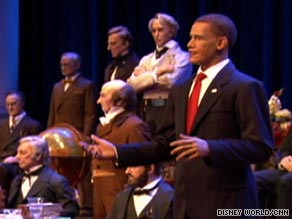 Next I visited the Hall of Presidents in the Magic Kingdom. This attraction features lifelike "audio-animatronic" representation of all 43 U.S. Presidents in a large hall. The contrast between Barack Obama, whose figure delivers the closing remarks, and the other 42 Presidents, mostly 60+ year old men, was striking. Regardless of what people think of Obama's politics, the fact that this country finally elected an African American to its highest office really stood out to me in seeing the Hall Of President's stage. Obama's remarks in the attraction were inspiring, as was Abraham Lincoln's delivery of the Gettysburg address. Amidst all the fun and play of the Magic Kingdom this attraction remind us of what it means to be an American.
Finally in the Disney Hollywood Studios theme park is an attraction featuring the life of Walt Disney, "One Man's Dream". I am always inspired when I hear of Walt Disney's life. He had his share of struggles, including an early business failure and a nervous breakdown, yet he was always reinventing himself. Walt Disney never rested on his laurels. He was always dreaming up new ways to express his creativity. After he made his mark as an innovative animator, he moved into producing movies with real actors. Then he dreamed up the concept of the theme park with the opening of Disneyland in the mid 50's. All the way up until his death in 1966 he was still dreaming, with plans of Disney World in his mind.
Walt Disney is an inspiration to me. Sometimes I think at age 54 its time to plan for retirement in the coming years, to kick back and relax. Walt never did that. He was always challenging himself to become better, ignoring financial risks to start new projects. Walt's message to me is to never stop growing, and to keep dreaming of new ways I can express myself. Walt did not know the meaning of the word "retirement".