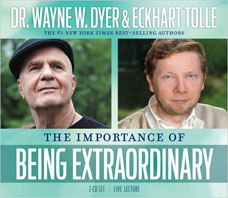 How would you like to hear a conversation between two of the top three most influential spiritual people alive?  The new Hay House CD set "The Importance of Being Extraordinary" gives you that opportunity.
Wayne Dyer jokes about this designation that he first saw on the internet.  "You're listening right now to the third most influential spiritual person alive," Dyer says.  "That's my ego.  There's two people ahead of me on this list.  Now my spirit says 'you aren't any better than anyone else, you're just connected to God like everyone else.'  The ego is tapping me on the shoulder saying 'I know you can take those two guys ahead of you down!'"
The CD is filled with wonderful moments like this, giving insight to the human dilemma we all struggle with – when are we living out of our ego and when are we living out of spirit?
Eckhart Tolle's "power of now" message comes through clearly in the discussion.  The real you, Tolle says, is "a sense of deep aliveness that has nothing to do with your history or your future.  If you can touch that within you that is the liberation from a false sense of self.  This is why we are here.  To experience that."
I enjoyed the friendly banter between Dyer and Tolle, filled with wisdom and humor.  On the second disk of the two CD set the pair take questions from the audience (recorded at a live event in Maui).  Listen to the CD to hear their take on inquiries such as:
"Since you are both very popular and successful, how do you remain humble and in touch with everyday people and situations, and not let your ego take over?"
"Should I establish goals for my life, and what kind of goals would each of you place a high value on?"
"Is it possible to slay the ego?  Can the ego be good?"
While I feel a reading book from Dyer or Tolle is the best way to absorb each author's teaching, this two hour CD program captures the essence of their message in abbreviated form.  "You can be an extraordinary being and still have ordinary in it.  The extraordinary part of who we all are is the Soul,"  Wayne Dyer says in one segment.  The CD set reminded me to recognize and live out of my "extraordinary" part more often.
You can get "The Importance of Being Extraordinary" from these sellers:
This is another review in my partnership with Hay House.  I was not financially compensated for this post. I received the CD from Hay House for review purposes. The opinions are completely my own based on my experience.