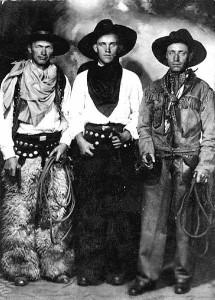 Last week I was in Las Vegas for a travel conference at the same time the National Finals Rodeo (NFR) was being held.  And the town was overrun with cowboys.  I saw cowboys in the casinos, in the buffets, in the shows, everywhere!
On this particular trip I noticed how attached these men were to their cowboy hats.  I never saw a cowboy take his hat off.  In fact in a sports book one night I was watching the "bucking bronco" competition telecast from nearby Thomas and Mack Center.  I marveled at how each rider was jostled all about by the bronco he was riding, while never losing his hat.
I came to see that the hat is a big part of who a cowboy is in his own mind.  That's ok, but at the same time I wondered if these men were limiting themselves by that cowboy persona.  I do the same thing.  I was in Las Vegas as a travel agent, a business I am thankful to be a part of, but sometimes I need to tell myself "I am more than just a travel agent!"
Mark Nepo writes in The Book Of Awakening this wise advice: "Think of your work as the glass and who you are as the water. What other kinds of work can you pour yourself into?"
Maybe today it is time to toss that cowboy hat of your normal role and say "yee haw!!!"  Does your job define you?  You are more than your job.  What new areas of growth can you move into?  This is a question I am asking myself today.
image from UW Digital Collections