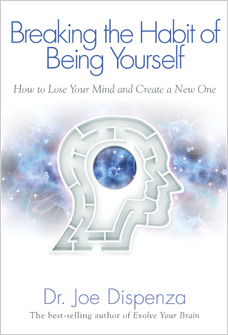 Can the average person understand and apply the principles of quantum physics to create a new reality in his or her life?  A reality much more creative and fulfilling than the survival patterns most of us are operating out of?
Yes! contends Joe Dispenza in his fascinating new book "Breaking the Habit of Being Yourself".  Don't let the words "quantum physics" scare you away.  Early in his book Dispenza gives the best explanation I have read to date of what quantum principles are all about.  More importantly, in a detailed step by step manner he explains how we can take this knowledge to implement positive changes in our lives.
"When you and I can connect the dots of what science is discovering about the nature of reality, and when we give ourselves permission to apply those principles in our day-to-day existence, then each of us becomes both a mystic and a scientist in our own life," Dispenza writes in the introduction.  This was exciting to me, and I wanted to read more.
I liked Dispenza's vulnerability in describing his own learning curve in quantum living.  After being featured in the documentary "What The Bleep Do We Know?" Dispenza was in great demand as a lecturer.  His problem, he soon realized, was that his daily emotional state depended on the responses he received from his audiences.  "I saw that all of my perceived happiness was really just a reaction to stimuli in the external world that made me feel certain ways," he writes.  "I didn't want to lecture again until I was the living example of everything that I was talking about.  I needed to take time for my meditations and to make true change in my life, and I wanted to have joy from within me and not from outside of me."
Dispenza made these mental adjustments, and he passes on the lessons he learned to his readers.  He also gives many examples throughout the book of others who have made similar changes.  Rather than reading like a dry physics textbook, Dispenza's colorful descriptions of the quantum process gave me the confidence that I, too, can operate at this level in my own life.
Towards the end of the book Dispenza gives detailed meditation instructions to shift the reader's base thought pattern from the draining "survival" mode to a more fulfilling "creation" orientation.  I found this a bit overwhelming, so thankfully he also offers a couple of guided meditation audio files on his website to help with the process.  I downloaded and followed one of the meditations, and I can already feel a positive shift inside of me regarding a life change I want to make.
"When you have thoughtfully rehearsed a future reality until your brain has physically changed to look like it has had the experience, and you have emotionally embraced a new intention so many times that your body is altered to reflect that it has had the experience, hang on … because this is the moment the event finds you!" Dispenza writes.  "And it will arrive in a way that you least expect, which leaves no doubt that it came from your relationship to a greater consciousness – so that it inspires you to do it again and again."
You can get "Breaking the Habit of Being Yourself" from these book sellers:
This is another book review in my partnership with Hay House.  I was not financially compensated for this post. I received the book from Hay House for review purposes. The opinions are completely my own based on my experience.