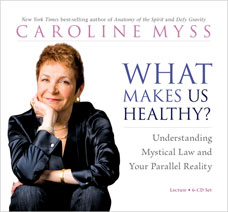 Sometimes I read criticism of Hay House authors in that they promote a simplistic, positive thinking approach to life.  It's all self-centered "happy talk".  Those critics have not met Carolyn Myss.
"A spiritual path is not self serving, it's about serving others," Myss says early in her six part Hay House CD "What Makes Us Healthy?".  "Its about what God expects of you, not what you expect of God."
Myss' CD is not for the faint of heart.  She challenges listeners in segment after segment to take a hard look at how they are operating in the world.  She's critical of teachers who emphasize a self-centered approach.  "The human consciousness movement has changed (spirituality) to what we expect of God.  All we have to do is think and it will happen, so entitled are we.  Preposterous!"
Myss harsh tone had me thinking at times "get off my case, lady!" when listening to the CD.  But I encourage listeners to stick with it.  Her goal is to help her audiences reach their full potential.  "Everyone who I am privileged to teach is a jewel that needs animating," she asserts.  While her approach may seem negative at first, she is trying to shake us out of our unhealthy, self-centered habits.
Myss believes that experiencing pain in our lives is not all bad.  "There's 'good pain'. It's not all about being happy," she says. "This pain is calling me inward.  I need to follow this.  Something within me is not congruent and I need to find out about that.  Not drug it."  These words rang true with me.  I can think of times of great growth in my life, and those times were often preceded by periods of personal anguish.
One segment that spoke to me was about getting my own act together before I can really be of service.  "I still have issues to work through," I think to myself sometimes.  "How can I be of help to others?"  Myss encouraged me to not let my own struggles stop me.  "Is there anyone I can help heal while I am healing?" she says to ask yourself.  "If I can lift this from another's heart, I'll take them with me."
If you are looking for a CD of positive affirmations, "What Makes Us Healthy?" is not for you.  If instead you are open to taking a realistic look at your life, then I recommend listening to her lessons.  It made me contemplate where I am self centered.  "The spiritual journey is not a trip to the spa," Myss concludes towards the end of her CD.  "We are expected to care for each other.  You are not here just to take care of yourself.  You (can be) a channel of grace."
You can get "What Makes Us Healthy?" from these sources:
This is another review in my partnership with Hay House.  I was not financially compensated for this post. I received the CD from Hay House for review purposes. The opinions are completely my own based on my experience.